The French £20 Miracle Moisturiser Sells Out Within 24 Hours In All Boots Stores Nationwide And Online
GLENN FRANCIS
It's the affordable French Wonder Cream used by celebrities, super models and makeup artists worldwide and now Embryolisse has lived up to its hype in UK sales. For the first time in its 65 year history, Embryolisse launched on the high street in Boots and within 24 hours the website and every store in the country had sold out. In fact it was so popular Boots were selling 1 every 23 seconds. Dubbed the Grand Dames of skincare, the legendary Lait-CrèmeConcentré £20 (the original miracle cream) and Lait-Crème Fluide £28 (a lighter version of the original formulation) are the amazing magic moisturisers that have become a staple in the make-up bags of celebrities, super models and make-up artists who love its skin perfecting, smoothing, plumping and softening benefits.
International Celebrity Make-up artist Julia Carta, who has worked with Keira Knightley, Ben Affleck and Matthew McConaughey and is Simon Cowell's personal make-up artist says "It's the 'best kept secret among models and make-up artists". "it gives the skin 'immediate plump and glow", "I'm not surprised people are going crazy for Embryolisse". In fact worldwide, this amazing moisturiser is selling one tube every 60 seconds and with A-list fans including Gwyneth Paltrow, Scarlett Johansson, Demi Moore, Yasmin Le Bon and Jessie J, its no wonder women (and men) are eager to snap up the secret beauty balm to the stars. To celebrate the company's 65th anniversary, there's also a gold limited edition version available which is also flying off the shelves like hot cakes. Lait-Crème Concentré was way ahead of its time when it was first created in Paris in 1950 by a leading French dermatologist who hit on the strikingly simple but highly effective method of mixing water and oil with emollients to moisturise and protect the skin; unheard of at the time when it launched and, to this day, considered a pioneering move in cosmetic science.The legendary cream works as a super-effective moisturiser, anti-ageing, primer, cleanser, post-shaver and even baby balm and, as such, is often credited as the original multi- tasker and 24/7 miracle cream thanks to its ability to handle almost any skincare need in just one tube, with no more ingredients than absolutely necessary and at a price within everyone's reach.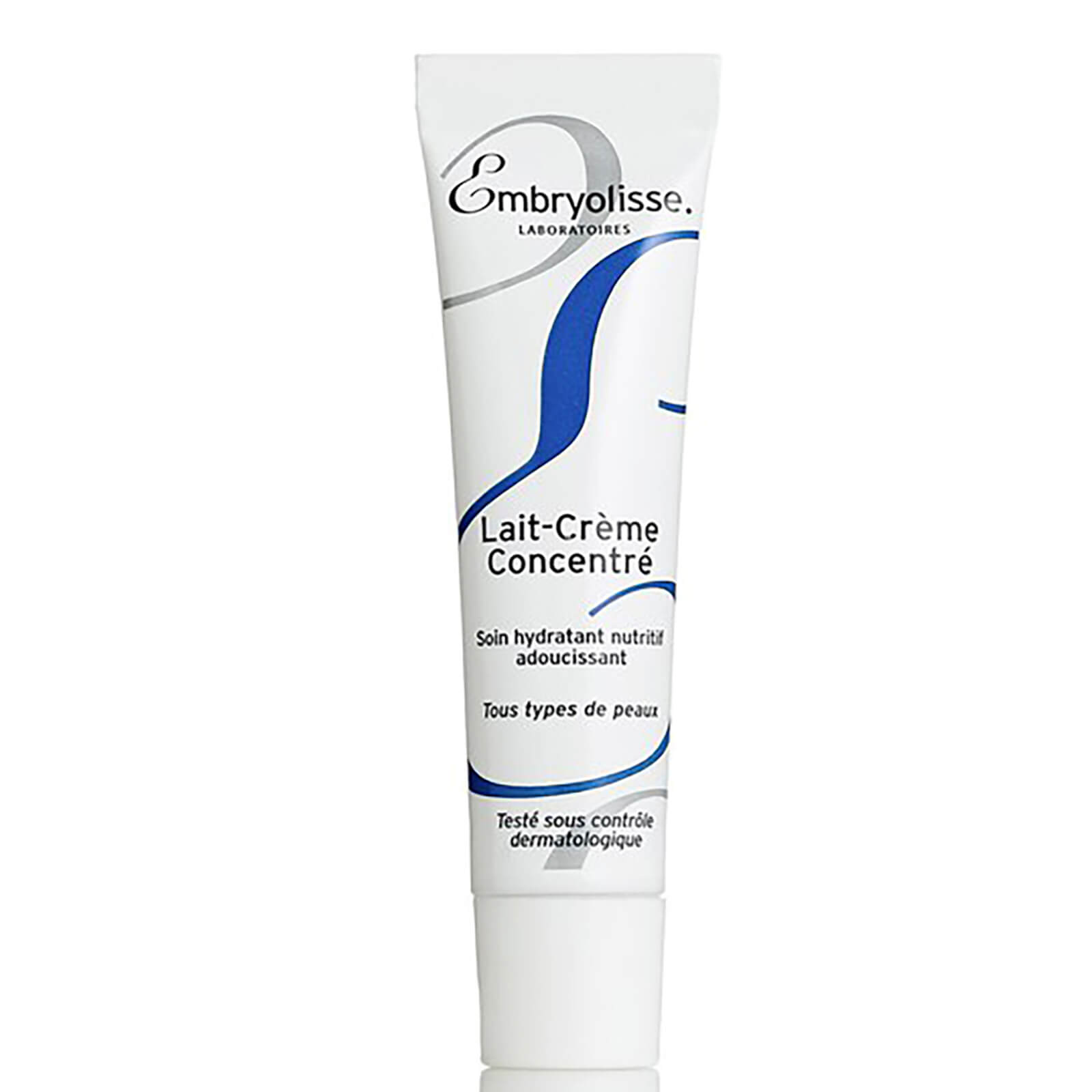 Good news perhaps for British women who it is estimated will spend upwards of £8,000 in their lifetime trying different moisturisers, cleansers and make-up removers. This simple yet highly efficacious formulation, coupled with consistently impressive results in user trials, is the secret of the cream's enduring success which has spanned six decades without the need for change. Passed on from mother to daughter and the go-to brand for the world's top make-up artists, Lait-Crème Concentré is also used widely in hospitals throughout France and is recommended by dermatologists as the ultimate moisturiser for sensitive skinand for the effective treatment of skin conditions such as Psoriasis.
Embryolisse Lait-Crème Concentré 75ml £20/30ml £13 Hailed as the make-up artist's secret weapon, it does the work of three products in one creamy lotion. Brilliant as a primer, moisturiser and make-up remover, this one-size-fits-all lotion will leave complexions soft and perfectly prepped for make-up.
Embryolisse Lait-Crème Fluide 500ml £28 A lighter version of Embryolisse Lait-Crème Concentré, this easily absorbed lotion contains all the natural, nourishing and hydrating ingredients of the original in a silky, weightless formula. Use it as the perfect all-over body lotion and for treating sunburn and cradle cap.
Embryolisse -unique skin caring, nurturing and revitalising formula and philosophy
Essential: Embryolisse formulations provide all the essentials but nothing more. They contain the vitalnutrients and moisture that skin needs for optimum health and radiant looks but nothing unnecessary to over-load the skin or upset its delicate balance.
Effective: Rigorous selection of active ingredients with renowned benefits and clinically proven results. Sheabutter, beeswax, aloe vera and soy are combined with cutting-edge dermatological active ingredients including hyaluronic acid and collagen to plump and smooth skin, minimise fine lines and wrinkles and help minimise sunspots and scars. Plus the velvety finish creates the perfect face base and grips foundation to help skin stay flawless for longer.
Natural: Embryolisse formulations make primary use of active ingredients from plants, flowers and fruits.
Highly tolerant: Made under strict pharmaceutical supervision and tested by dermatologists. Formulations incorporate the right active ingredients in the right quantities making them suitable for even the most sensitive skin types. In addition, they are paraben-free and not tested on animals. Easily absorbed to restore skin balance, treat dryness and protect against environmental damage, and suitable for use on all skin types and for all ages including babies from birth.
In addition to using as a primer and moisturiser, use as a:
•Body lotion
•After shave
•Make-up remover
•After sun
•Face mask
Embryolisse is also available in all Boots stores nationwide and from www.boots.com now.