Top Staycation 2021 Accommodation In Cornwall
All the homes listed here have been specially curated by Kiiona's editors. We may earn a commission if you book accommodation on Plumguide after clicking links in this article.
PLUMGUIDE.COM
On February 22nd, Boris Johnson announced that as long as certain conditions were met for lockdown to be lifted, the population could go back to booking domestic holidays and be able to stay in the accommodation they've booked on April 12th; provided they are from the same household. If you want to spend the holidays with family and friends that are not part of your support bubble/ household the earliest you can stay in a holiday accommodation is May 17th.
What are the 4 conditions that must be met to ease restrictions?
The coronavirus vaccine programme continues to go to plan
Vaccines are sufficiently reducing the number of people dying or needing hospital treatment
Infection rates do not risk a surge in hospital admissions
New coronavirus variants do not fundamentally change the risk of lifting restrictions
Considering International travel is banned until at least May 21st with a few countries in Europe, USA, and Africa still struggling to get a handle on their vaccination programmes, it seems the most popular way to enjoy the holidays in 2021 would be to have a staycation.
The UK is full of gorgeous landscapes, cities and beaches but Cornwall has proven to be the number one spot for holidaying especially because it has beautiful beaches, amazing restaurants and a tonne of open space- basically, there's so much to do and see and most importantly, all age groups will find something to do in Cornwall.
Here, we have curated the best accommodation to consider if you're thinking of Cornwall as your holiday destination, and if you want to bring your family and friends along- all from just £200 per night.
The Gulls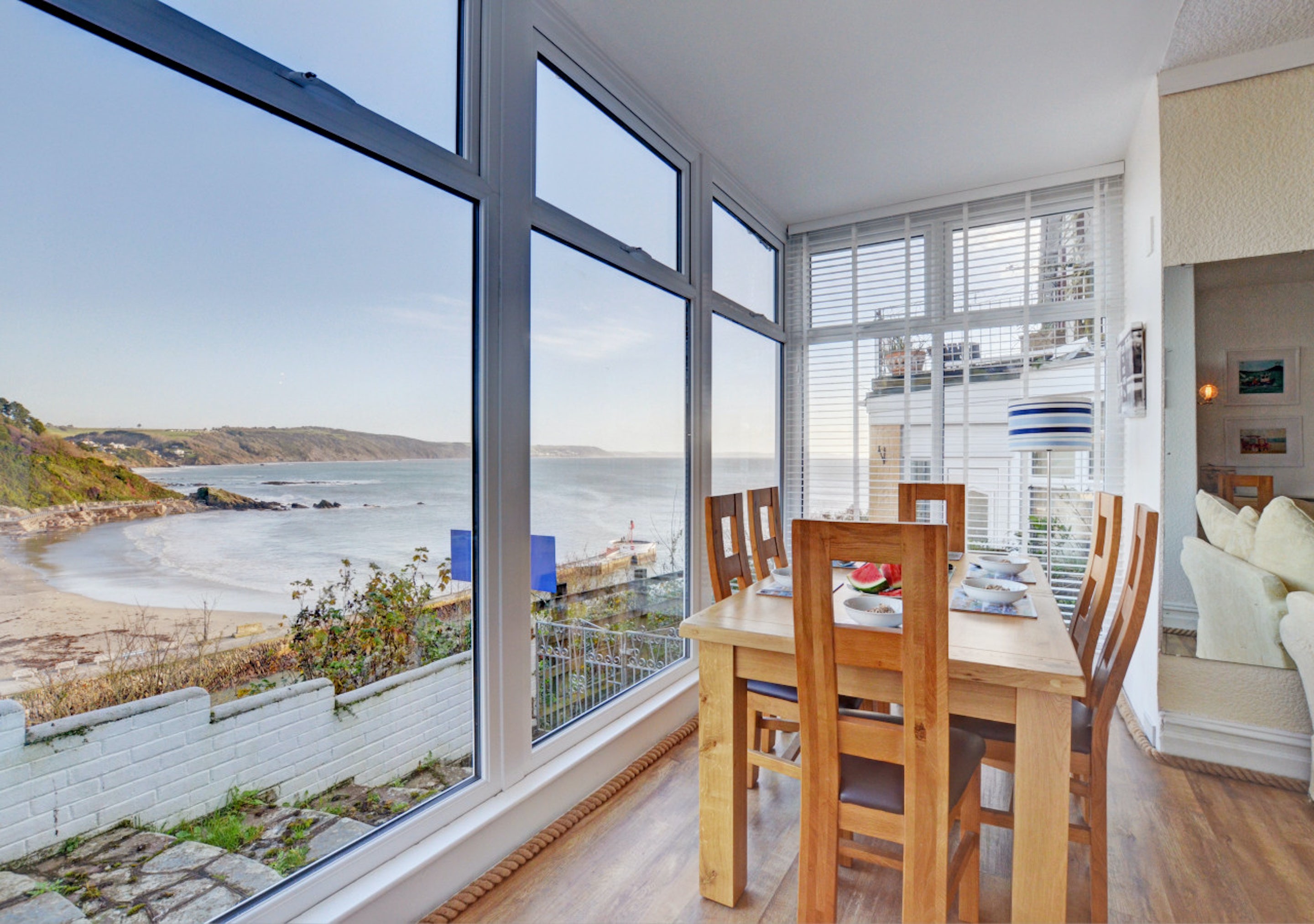 The quaint seaside town of Looe extends out below this hilltop house, and views stretch across the turquoise Cornish sea to St George's Island. It's a short, downhill stroll to the harbour front where seafood restaurants serve the fresh catch of the day, and boats are ready to whisk you away to wildlife spotting along the shore. 4 bed that sleeps up to 8 from £200 per night on Plumguide
Footlight Parade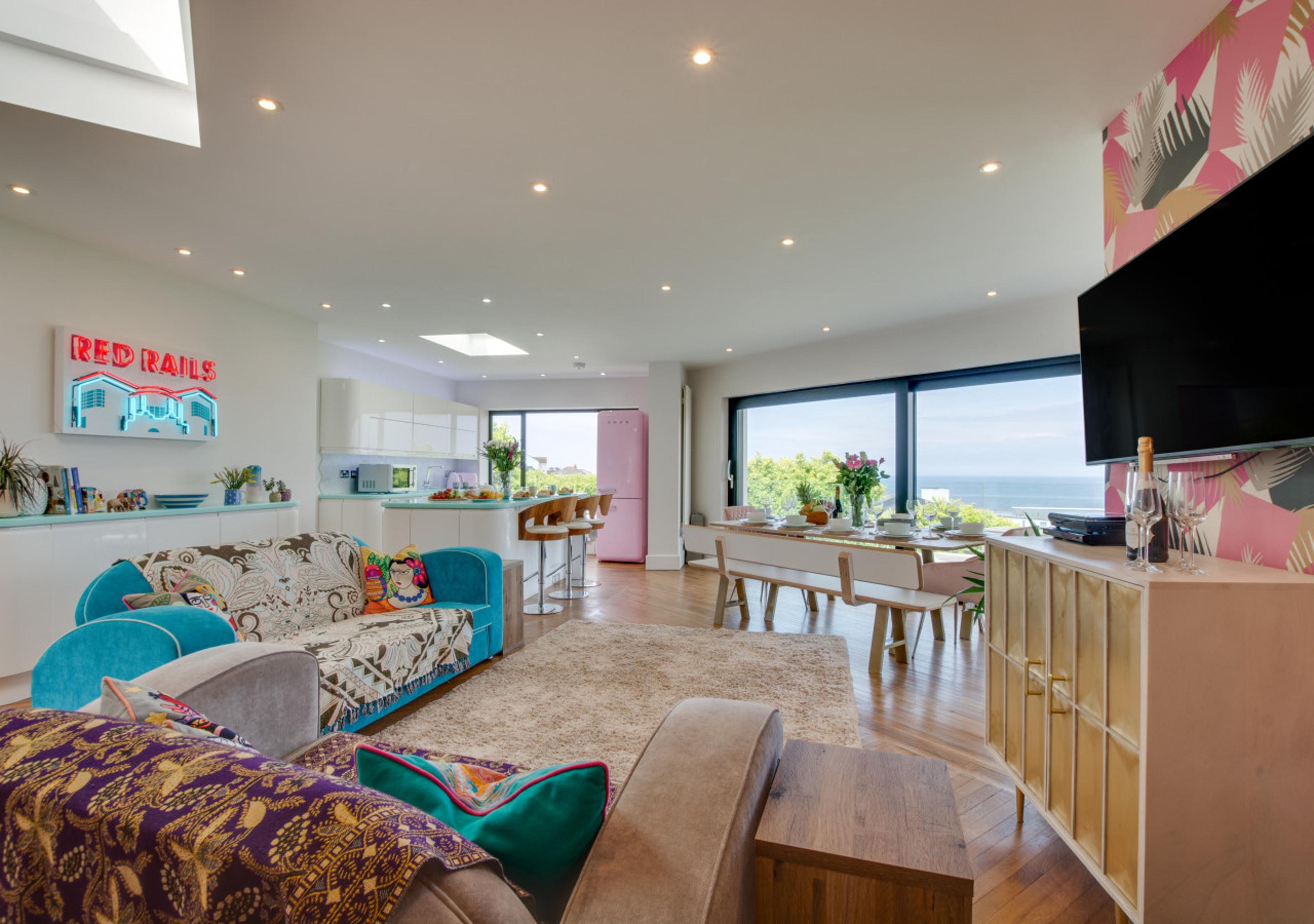 Those with a taste for art deco will love the geometric and bold interiors of this home. Even before you walk in, you might be fooled into thinking you've walked straight onto a 1930s film set. The house does actually date back to the 30s but has since been renovated and featured on George Clarke's Old House, New Home. With panoramic views of the surf, it's the icing on the cake that the home slips seamlessly into the natural landscape of the Cornish coast. You will spend hours on the glass balcony taking in the views while the kids play in the yard before even making it to the sandy beach just beyond. 5 bed that sleeps up to 10 people from £200 per night on Plumguide
The Glass Keep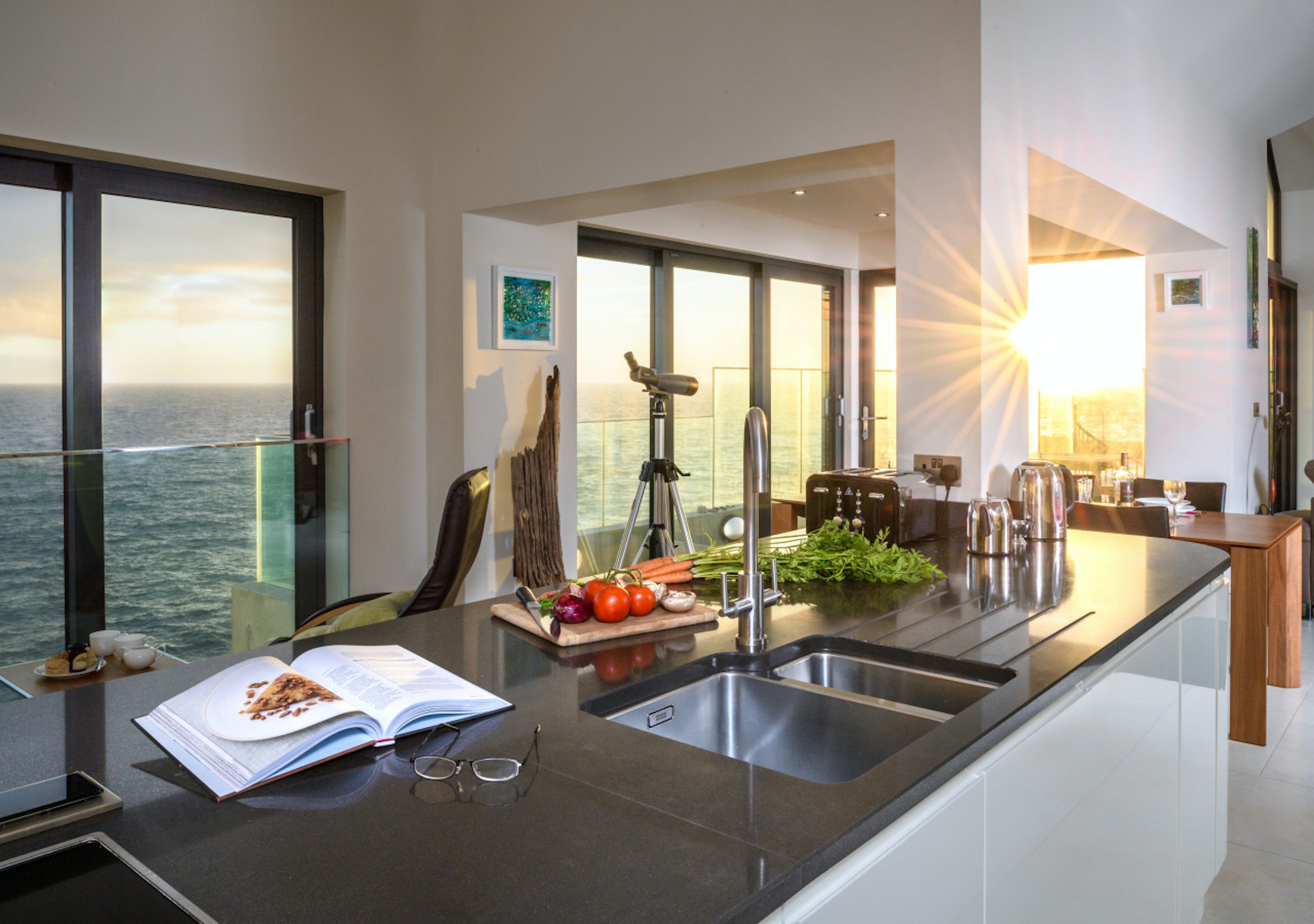 Gaze out over windy seas through through floor-to-ceiling windows when you visit The Glass Keep. Designed to maximise the views, guests lucky enough to stay here can enjoy sweeping ocean views from the open-plan living and dining area, from several bedrooms and not just one, but two terraces. Welcoming up to six guests, a group of friends keen on getting some fresh sea air will be well looked after in this modern space. Better yet, you'll be staying in picturesque Porthleven, where the restaurants are excellent, the locals are friendly and the views are breathtaking. 3 bed that sleeps up to 8 people from £200 per night on Plumguide
Waters Reach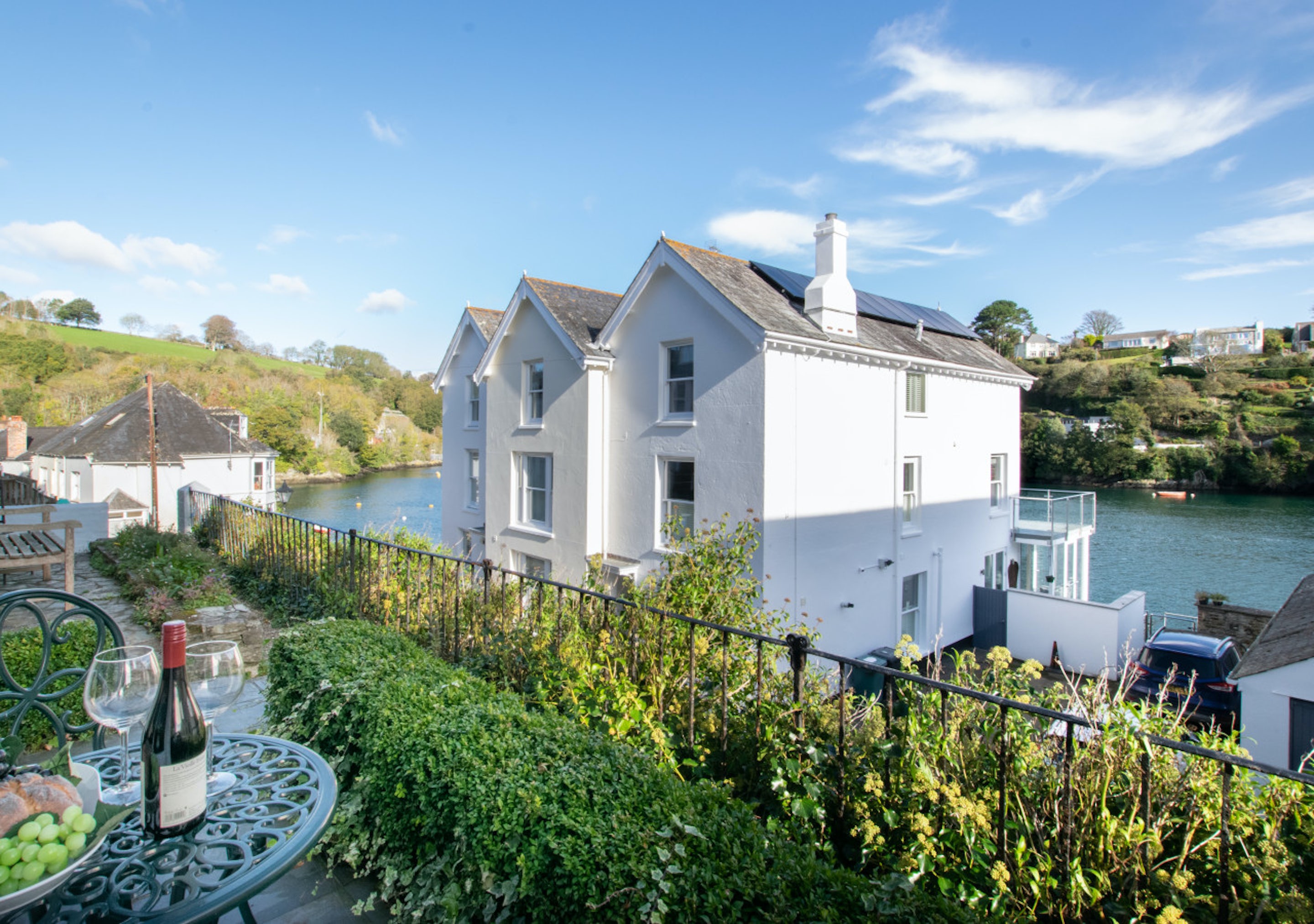 Within Waters Reach there is an exquisite villa that overlooks the River Fowey. Inspired by the home's Victorian roots, the interior design uses classic brick-laid fireplaces, beautifully traditional sofas, and a delightful curation of artwork to create an elegant and graceful space. Even more, with windows that have river views, this home boasts tranquility. There is a modern, open-plan kitchen that is fully-equipped with everything you will need to cook up delicious home-grown meals. 3 bed that sleeps up to 6 people from £200 per night on Plumguide
The Sea, The Sea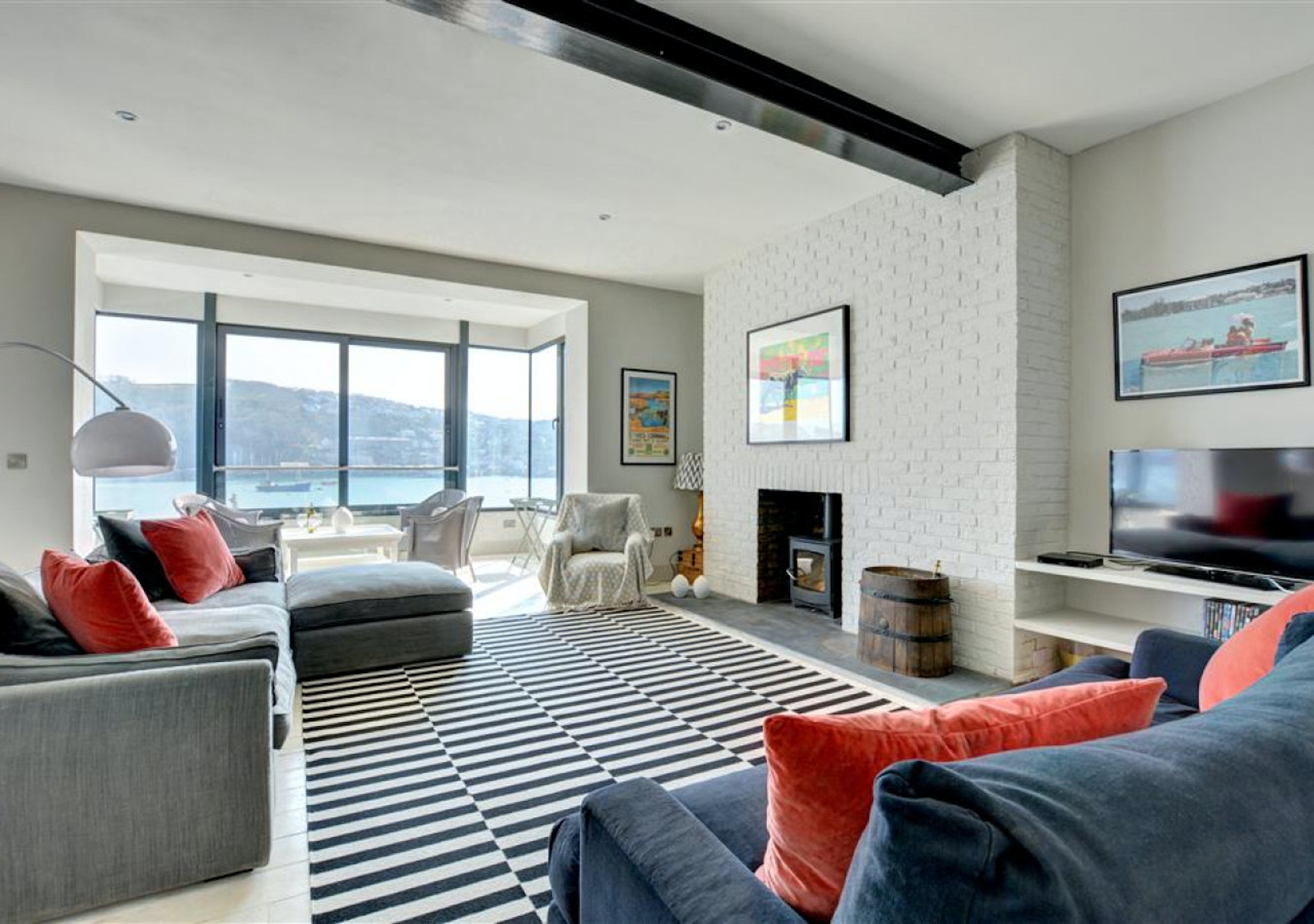 It doesn't get much better than a town house on the Cornish waterfront. No matter the weather, you'll have stunning panoramic views. Nestled in Fowey (a location officially part of Areas of Outstanding Natural Beauty), the town has everything from independent local shops to an aquarium and Literary Centre. The food scene in Cornwall is globally renowned for its fresh local produce, excellent seafood restaurants, and humble harbourside cafes. 4 bed that sleeps up to 8 people from £200 from Plumguide
Golden Haze (highly recommended)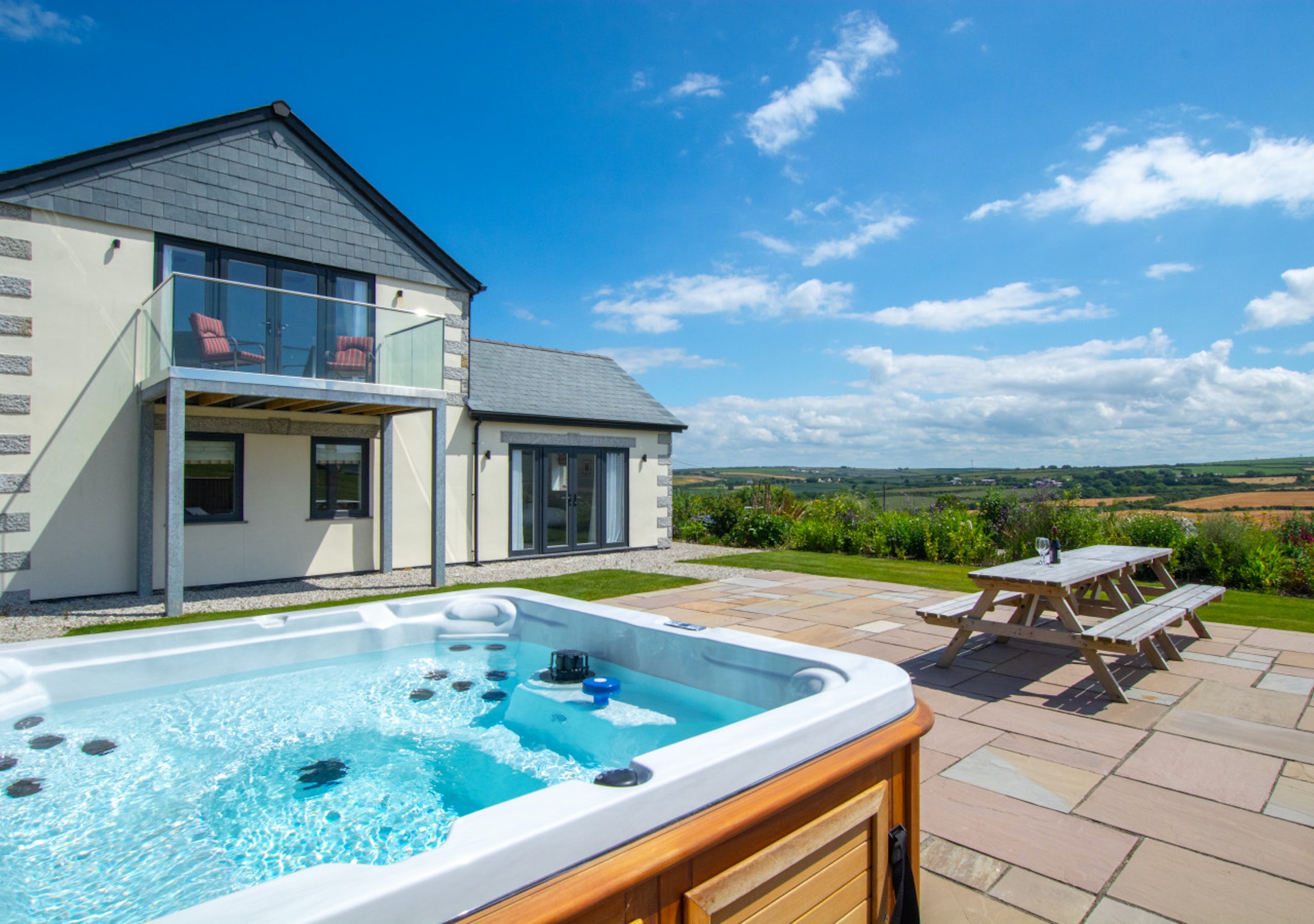 Gather your extended family and friends and head on down to this high-spec, six-bedroom home for incredible Cornish adventures. It sits on a quarter of an acre, in an elevated position with breathtaking 360-degree views. Pull up a chair at the bar and watch your nominated chef prepare a feast in the modern kitchen. Wander onto the terrace where a hot tub, barbecue and lounge chairs await. Most of the bedrooms are on the ground floor and directly access the garden, so you can wake up, stretch and walk straight outside. For local supplies, or fish and chips (when you're not in the mood for cooking), nip into Padstow, a fishing village three miles away with a couple of great dining options for foodies. For something a little closer, book the restaurant of the neighbouring Trevibban Mill Vineyard, with award-winning wines and ciders, as you'd expect. 6 bed for up to 12 people from £200 per night on Plumguide.
As the Curlew Flies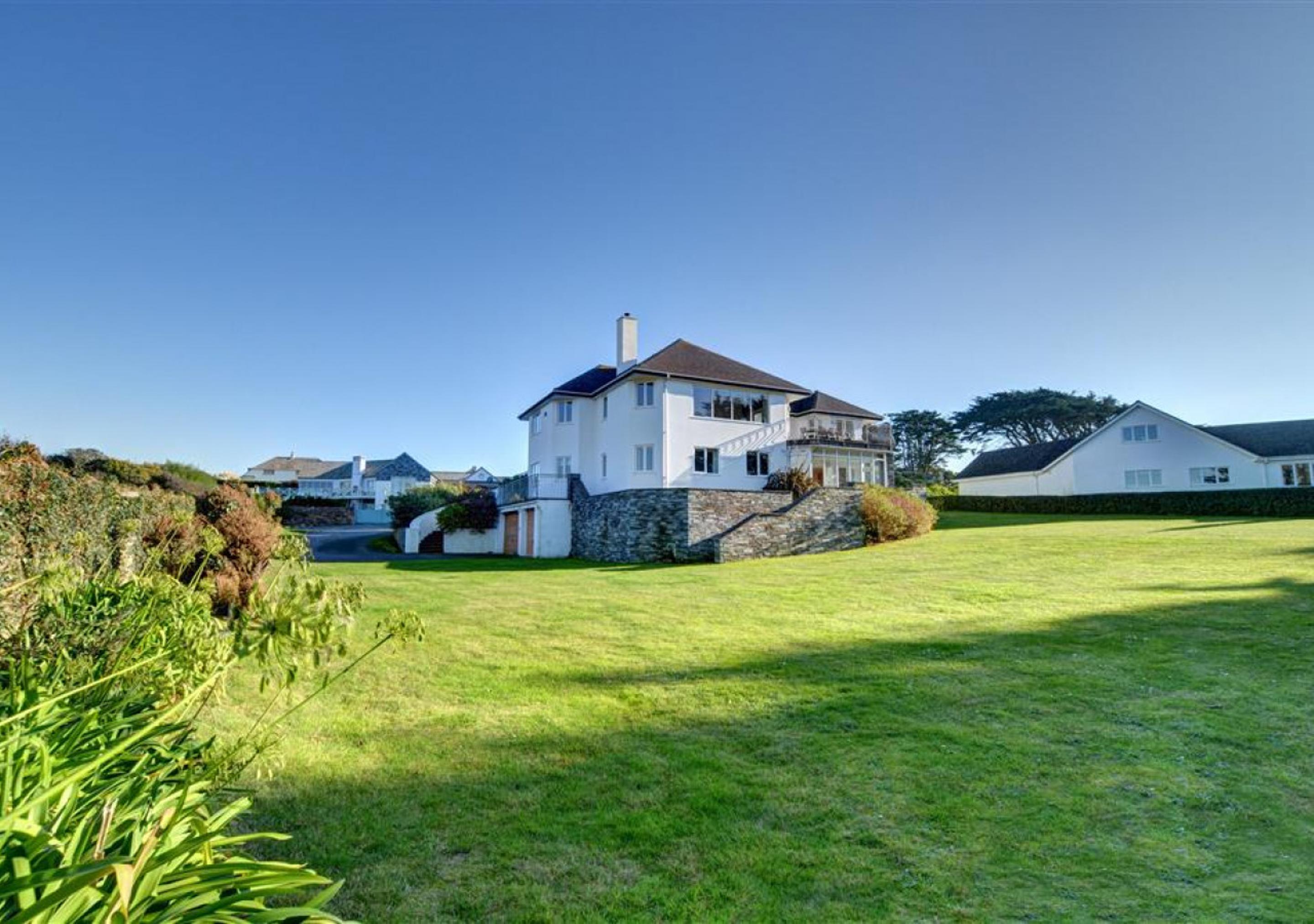 We all dream of having our own private beach, don't we? Here, you can make that fantasy a reality — well, almost. No, you won't have sole use of Constantine Bay, one of Cornwall's most beautiful beaches, but there is a path that leads directly from this home to the golden sands and it's less than a ten minute walk. As the Curlew Flies is perfect for large family holidays, with six bedrooms and a wealth of games to keep the kids from squabbling on rainy days. There's also a neighbouring golf course if you fancy playing a couple of rounds, and of course the rest of the coastline is but a drive away. Or you could simply lounge on the balcony admiring the views over Trevose Head and sipping a glass of wine. 6 bed for up to 12 people from £200 per night
A Great Idea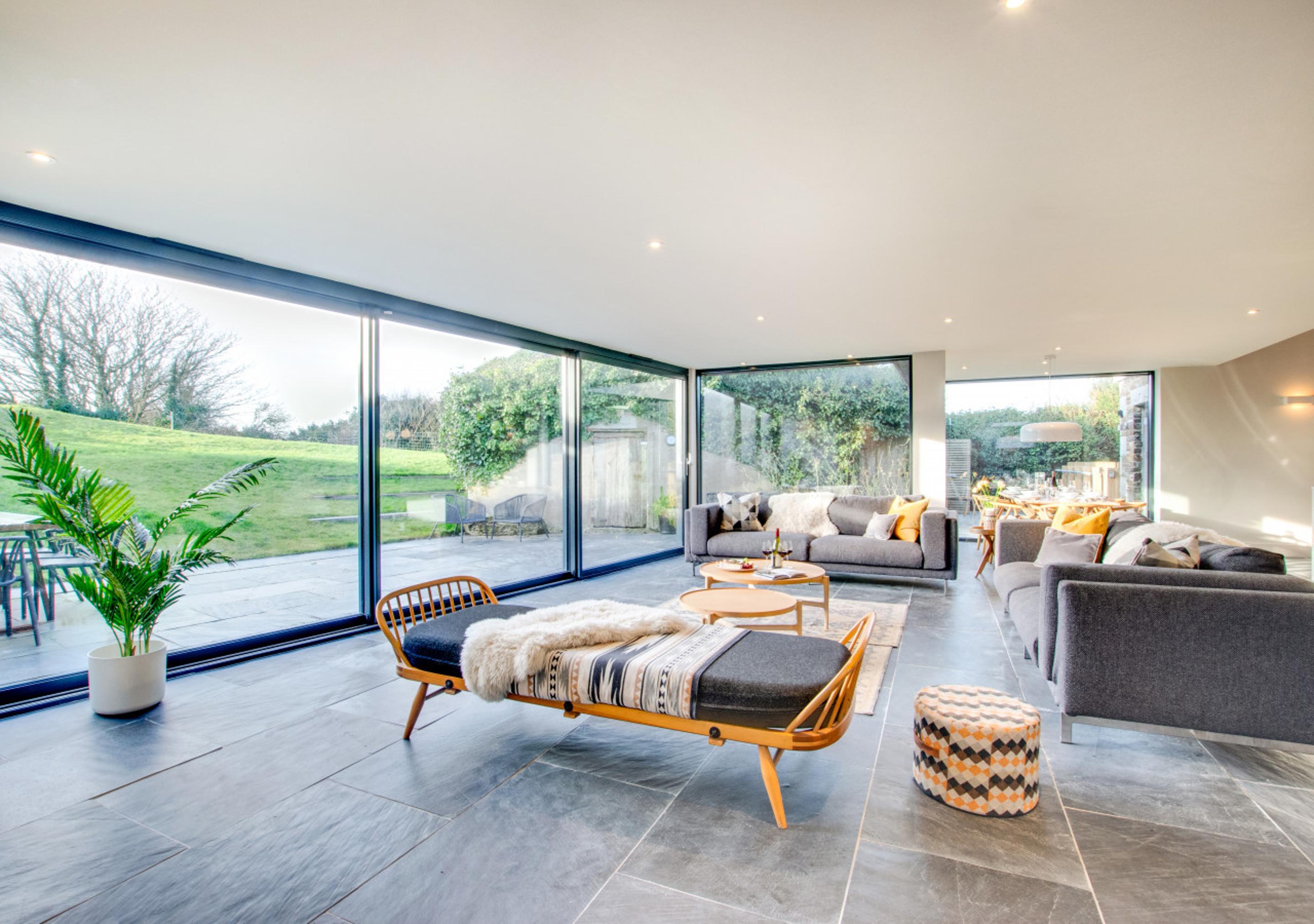 Tucked away in the tiny north Cornish hamlet of Engollan – with Newquay and Padstow both about eight miles away – this seven-guest, two-dog home makes a great jumping-off point for the famous beaches and other activities like surfing, horse riding or golf. For sightseers, the Eden Project and Bodmin Moor aren't too far either. Back at base, you can relax in luxury in front of the wood-burning stove in the open-plan living space and play your favourite tunes on the Amazon Echo, have a barbecue in the garden or curl up in the snug for a movie on the smart TV. Cornwall is always a good idea, and a stay at this fantastic cottage is a great one. 4 bed that sleeps up to 7 people from £200 on Plumguide
To view more luxury self catering accommodation visit Plumguide